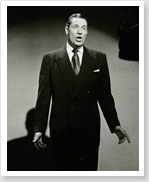 First singing for Billy Graham in 1944, George Beverly Shea carried the Gospel in song to every continent and every state in the Union. As the musical mainstay in Mr. Graham's Crusades, Bev Shea was often called "America's Beloved Gospel Singer." However, he could not be claimed by any one country — a Canadian by birth, he is a favorite of people in many nations.
Born in Winchester, Ontario, February 1, 1909, where his father was a Wesleyan Methodist minister, Mr. Shea's first public singing was in the choir of his father's church. From 1952, he was heard regularly on network radio, and in more recent years his bass-baritone voice was transmitted on weekly shortwave programs around the world. Between Crusade, radio, and television dates in many countries, he sang hundreds of concerts and recorded more than 70 albums of sacred music.
Every hymn he sang was a testimony to the saving power of Jesus Christ and to Mr. Shea's faith in Him. He was a noteworthy composer, and the songs he wrote incorporated the same message. He composed the music at age 23 to one of his best-known solos, "I'd Rather Have Jesus," to words by Mrs. Rhea H. Miller. He also wrote "The Wonder of It All," "Sing Me A Song of Sharon's Rose," and "I Love Thy Presence, Lord."
When Billy Graham, then pastor of the Village Church in Western Springs, Ill., took over the "Songs in the Night" radio program on Chicago's WCFL in 1944, he recalled hearing Mr. Shea's radio singing and enlisted him to help with the broadcast. That was the beginning of a long association between Mr. Graham and Mr. Shea. In 1947 Mr. Shea went to Graham's hometown, Charlotte, N.C., to sing in one of the first of Mr. Graham's city-wide Crusades.
From the beginning of Mr. Graham's Crusade ministry, Mr. Shea and Cliff Barrows were the nucleus of the Crusade musical team. Barrows was choir director, platform emcee, and radio-television program director. They were joined in 1950 by pianist Tedd Smith, and through the years, organists Don Hustad and John Innes provided additional accompaniment.
In addition to Crusades, Mr. Shea remained active with Billy Graham Evangelistic Association (BGEA) into his late 90s, singing at Franklin Graham Festivals in Charleston, S.C. (2008), and Knoxville, Tenn. (2008) and at Will Graham Celebrations in Paducah, Ky. (2007) and Gastonia, N.C. (2006).
George Beverly Shea Biography
BORN
George Beverly Shea; February 1, 1909; Winchester, Ontario, Canada
DIED
April 16, 2013; Asheville, North Carolina
PARENTS
The Reverend A. J. Shea and Maude Whitney Shea (both deceased)
MARRIED
Karlene Aceto
EDUCATION
Annesley College, Ottawa, Ontario
1928-29: Houghton College, Houghton, New York
VOCATION
1929-38: Radio Broadcasting (singing on WMCA & WHN) as an avocation while working as a clerk in the headquarters office of Mutual of New York insurance company
1938-44: Announcer and staff soloist, WMBI, Chicago
1944-52: Soloist on ABC's "Club Time"
1947 – 2013: Soloist, Billy Graham Team
1950 – 2013: Soloist on the "Hour of Decision"
1951 – 2013: Recording artist with RCA (1951-1977) and Word Records (1974-2013) – more than 70 Albums of hymns, including nine CDs
AWARDS AND HONORS
1956: Doctor of Fine Arts, Houghton College, Houghton, New York
1965: Grammy Award, sacred category, National Academy of Recording Arts and Sciences, for album "Southland Favorites" with Anita Kerr Singers; Ten nominations
1972: Doctor of Sacred Music, Trinity College, Deerfield, Illinois
1978: Elected to Gospel Music Association Hall of Fame, Nashville
1996: Elected to Religious Broadcasting Hall of Fame (NRB)
1998: North Carolina Public Television produced his life story, "The Wonder of it All"
1999: Inspirational Leadership Award, Salvation Army, Los Angeles, California
2004: Lifetime Achievement Award, Canadian Gospel Music Association
2008: Inducted into the "Hall of Faith," The Conference of Southern Baptist Evangelists
2009: Exceptional Service, Salvation Army, Winchester, Ontario, Canada
2009: Honoree Inductee, The Royal Canadian Mounted Police (RCMP)
2009: Great Commission Award, USA Salvation Army, USA Eastern Territory
2011: Lifetime Achievement Grammy Award, The Recording Academy
PUBLISHED WORKS
1968: "Then Sings My Soul," autobiography, Fleming Revell Company
1972: "Songs That Lift the Heart," about his favorite songs, Fleming Revell Company
1984: "Then Sings My Soul," Film Musical/Documentary, World Wide Pictures
2004: "How Sweet the Sound," Tyndale House Publishers
HOBBIES
Boating
CHILDREN
Ronald and Elaine
RESIDENCE
North Carolina